Metal Gear Solid Mobile Big Boss
1F Utility Room
Skip initial cutscene, skip codec

round corner tight to enter door, skip cutscene and codec

round corner tight OR climb box behind you for safe Big Boss route

enter Northeast Door
1F Store Room
Skip cutscene, skip codec

Enter NE door to pick up Chaff Grenades that are in the top left corner,

Equip Chaff Grenades with two taps in either direction up or down

Toss chaff before crossing camera, head into Western door then head Northeast
1F Base Main Entrance
NO CODEC OR CUTSCENE

Climb stairs and head west
1F Utility Control Room
Skip cutscene, skip codec

Run straight for the Node in the NE, ignore the guard

Interact with node, it will stop at 75%, skip codec and play Interference 1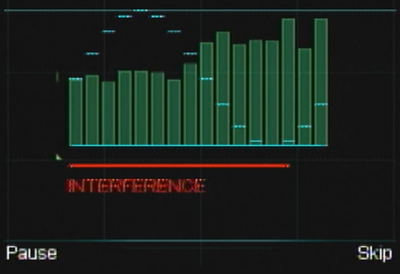 Aim for the lines as you tap up and down
After interference, there is a codec, completion of download, then another codec

Run straight for the exit
1F Base Main Entrance Visit 2
Skip codec, then go to the E door on the 2nd level
1F Primary Corridor
Hug the outside wall as you go to the N door
1F Auxiliary Corridor
Skip the cutscene, then skip the codec

Toss a chaff after you round the corner past the guard
B1 South Corridor
Skip the cutscene, then skip the codec

Take the southern route to the door
B1 Mess Hall
Skip the cutscene, then skip the codec

Go immediately east then up past the cafeteria table
B1 East/West Corridor
Skip the codec

Toss a chaff before the camera
B1 Restrooms
Enter the E bathroom, careful not to run into the stall

Mash Center or 5 as you approach the vent
B1 Sleeping Quarters
Skip the codec

It's possible to make the guard notice you but not see you at the lockers by going north then west

If guard notices you, tranquilize him instead
B1 Central Corridor
Take the first door on the east
B1 Fusion Lab
Skip the cutscene, then skip the codec

Equip the Camouflage by pressing down once

Approach the sign, tap to look down, and mash center/5 to accept the color

Skip the cutscene upon entering the room

Climb the stairs and enter the room
B1 Temporary Storage
Approach the bottom ledge and mash center/5 to climb

Pick up chaff by door on way out
B1 Armory
Skip the codec

Exit at the southern door
B1 Security Control Room
Enter the control room, and interact with the node on the west end

Skip the cutscene, then skip the codec

Go below the table and pick up a ration

Skip the codec and play Interference 2, skip codec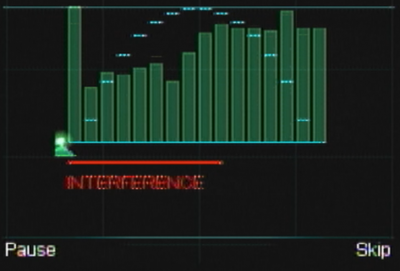 Aim for the lines as you tap up and down
take camo pick on sw corner, go against and lean

Skip codec, then wait

An unskippable cutscene of a terrorist entering, then skip the codec

After the unskippable cutscene of the terrorist entering, run out of the room and go west
B1 Elevator Access
1F Equipment Store
USE PHONE NOT WII CONTROLLER

After the elevator rises to the top, skip the cutscene then the codec

Pick up the SOCOM, approach the sensor, equip SOCOM with one tap down and fire at it
1F Store Room Visit 2
Skip the cutscene, then skip the codec

Head East, take the turret damage
1F Base Main Entrance Visit 3
USE PHONE NOT WII CONTROLLER

Fire at sensor on N 1st floor, then E 1st floor to approach stairs, then enter room on 2nd floor and fire at that sensor
1F Primary Corridor Visit 2
Hug the rail on right to only get shot by the turret once
1F Auxiliary Corridor Visit 2
USE PHONE NOT WII CONTROLLER

Skip the cutscene, then skip the codec

Approach sensor on top, fire SOCOM, then switch to camouflage (one tap down) in fpv and take a photo of the sensor

Enter elevator, be ready for a codec during the load
B1 South Corridor Visit 2
Skip the codec then enter the Mess Hall again
B1 Mess Hall Visit 2
Skip the codec and repeat the Mess Hall movement
B1 E/W Corridor Visit 2
Skip the codec

After opening the door, take a quick picture of the guard

equip chaff (one tap up), throw a chaff grenade

Hug the wall as you round the corner to avoid getting shot
B1 Restrooms Visit 2
USE PHONE NOT WII CONTROLLER

Equip SOCOM after approaching the lasers (two taps down) and shoot the sensor, switch to camouflage (one tap up)
B1 Sleeping Quarters Visit 2
Run past the guard and throw a chaff
B1 Central Corridor Visit 2
Take furthest door on the right
B1 Access Control Room
Skip the cutscene, then skip the codec

Run through the door in the east past the cameras
B1 Observation Area
Skip the codec, then enter the Observation Area

Interact with the node, skip the codec, then play Interference 3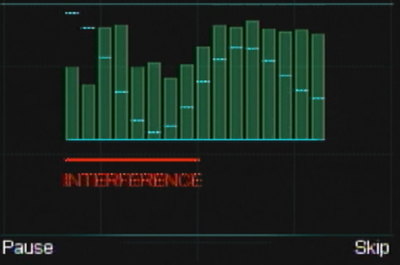 Aim for the lines as you tap up and down
Skip codec after 100% download, then skip the cutscene

Game will load, continue to mash to skip the cutscene

Game will load again, skip one more cutscene, then skip the codec

When you reach the door, you will skip another codec

Head back south towards the armory
B1 Access Control Room Visit 2
Hold down when the load is complete, tap left to enter the first door without slowing down. The guard will notice you but not be alerted! Example

here
B1 Central Corridor Visit 3
If you want safety or are still learning the game, switch to the M9 and tranq the guard when you round the corner. Afterwards, toss a chaff grenade to disable the camera.

If you want to play risky and save the M9 menu and ammo, follow

this movement
B1 Armory Visit 2
USE PHONE NOT WII CONTROLLER

Switch to SOCOM

Go down and to the leftmost door

Take out the sensor when you open the door, re-equip chaff, then pick up the nikita and C4.

Return to the Central Corridor
B1 Central Corridor Visit 4
If playing risky, toss a chaff

immediately

and move! You will round the corners as tightly as possible. Example

here

If safe, the pressures of moving optimally aren't there
B1 Access Control Room Visit 3
Hold up when the load is complete, you will reach the Observation Area before HQ responds. Example

here
B1 Observation Area Visit 2
Use the elevator on the east side
B2 Lower Storage
Skip cutscene upon exiting, then skip the codec

Approach the vent as closely as possible

Make sure to leave plenty of room for the nikita to turn, it is very easy to hit walls!

There are three sensors to destroy, all are in the next room. One is in the backleft, one on the left after the corner by the vent, and another past that one in the same direction. See map for more details

After destroying the final sensor, hold right to move before the cutscene begins. Skip the cutscene, then skip the codec

Head into Engineering, equip chaff grenades if you want to be safe.
B2 Engineering
Skip the codec, then enter the Control Room

Hug the west wall, sometimes turret will shoot you. If you want to be safe, use a chaff grenade.
B2 Old Store Room
Mash center/5 to climb boxes

Equip C4 (3 taps up or down) and lay it down by the metal part, make sure to stand back!

If you move quickly and approach the door from the bottom edge, you can exit the room and skip the codec.
B2 Engineering
After shooting the sensors with the SOCOM, switch to the M9 before the next room
B2 Hangar Access
Skip the cutscene, then skip the codec

After interacting with the elevator panel, get ready for a codec
Boss: Commander
After the elevator lands, skip the cutscene
After defeating the Commander, mash skip after SIMULATION END until you reach the Statistics screen